Biff has had increasing pain and stiffness in his hips over the past few years. His stamina on walks was dwindling, and he was having increasing difficulty moving between standing and sitting. Our vet had prescribed Carprofen (Rimadyl), and it was helping, but not completely. Biff needed to improve his muscle tone and we didn't know how to help him.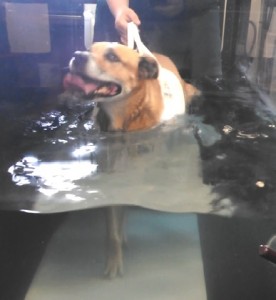 So we turned to water therapy! A nearby veterinarian's office has a therapy room with pools and treadmills and helpful, loving therapists. Biff was prescribed water exercise in a small pool with a treadmill. The pool fills with water, then they start the treadmill. He could only hop for about 3 or 4 minutes at first, and now he is up to 9 minutes! He loves it, and it is definitely improving his stamina and quality of life.
We were also given exercises for Biff to do at home. They are easy to work into our daily routines. This therapy has really helped Biff enjoy walks more. He takes fewer breaks and is able to hop farther, even on hot summer days! Water therapy may not be right for every dog, but it has certainly helped Biff!