Last year after Sunshine passed away, we heard about a young dog who needed an amputation, but first she needed a foster home. She had been found as a stray and had a very badly broken left rear leg. We brought Penny into our home, where she adjusted quickly. Not long after I had dropped her off for the amputation, the vet called to say that, perhaps, she could keep her leg. He had taken another x-ray and found that Penny's young body had fused the broken bones back together. The left rear leg was shorter than her right rear leg, but it might be OK. So we took her back home and adopted her.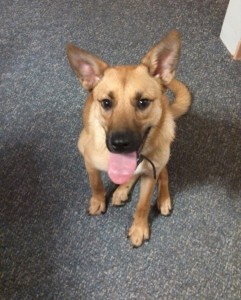 Over the past year she injured her short leg frequently, but it would recover and she was always happy and friendly. After a recent more persistent injury, we brought her to the vet who took more x-rays. The leg had many problems. Not only was it short, but she had formed a false joint in the wrong location and she had a jagged bone jutting out into her muscle. It was probably bothering her more than we knew. Our vet hated to bring up the idea of amputation, but perhaps it was the best choice. The short leg would be a source of pain for the rest of her life, and much of the time she didn't use it anyway. Maybe it would be better to hop on 3 legs?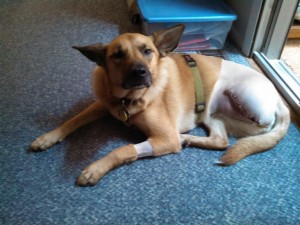 This past Tuesday, her left rear leg was amputated. She is recovering amazingly fast! Tuesday evening, she was out in the yard peeing. !!! Gabby and Biff both held out for around 24 hours before they would go outside. We are supposed to restrict her activity for 3 days, and today is the 2nd day. She is sleeping a lot, but her energy level is definitely increasing. She has adapted to 3 legs very quickly. Welcome to life as a tripawd, Penny! We are sure you will enjoy it.